News in the archive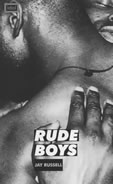 We are grateful to Graeme for donating a copy of the first (April 1993) Cruising Monthly, a 'documentary video for the lesbian and gay community' and fundraiser for London Pride.
The sad death of Barbara Bell has brought into the archive two pipes she smoked as one of a group of butch policewomen during World War II and also a dish from her many holidays with dear friends in Italy. We thank her sister, Midge, for these gifts.
Chris, former owner of OUT! bookshop in Brighton (and Ourstory trustee) has donated five volumes of the American journal of Lesbian and Gay Studies GLQ, orphans from the shop's unsold stock. And thanks too to David for donating a copy of Jay Russell's Rude Boys (right).