Bags of Bona Books
Now we're nicely settled in our new home, along Western Road in Brighton, we thought we'd get a lovely new look to go with it. We hope you like this format for the newsletter and will look out for our freshly-hatched logo at events around town. Speaking of our new office, we're preparing to invite more of you to visit us there, to take a look at the thousand or more books we have in our collections.
Thanks to a donation of some shelves and some serious cataloguing activity, we hope to open our library to readers early next year. Before then, you can get a taste of what's in store by stopping by our tent in Preston Park on Pride day, Saturday August 5th – we shall be showing off a small selection of our books in an exhibition similar to 2005's wildly successful, Meet Our Ancestors. Hundreds came to see us last year, some of whom have since joined our band of volunteers and are already thinking up bright ideas for next year's Pride! Why not call in, we'd love to see you.
REALLY LIVING
Please also put in your diaries 7pm on the evening of Wednesday, 2nd August, when we shall be performing our show Really Living at the Friends Centre in Meeting House Lane in Brighton. We put on this show at a small venue for Winter Pride and LGBT History Month in February and the audience was very enthusiastic – "Breathtaking, poignant, stirring", "It conjured up my own gay history", "very difficult to better", were just some of the comments. Join us for an hour of memories, music and film about lesbian and gay life in Brighton as recalled by three generations, who lived here between the 1940s and the 1990s.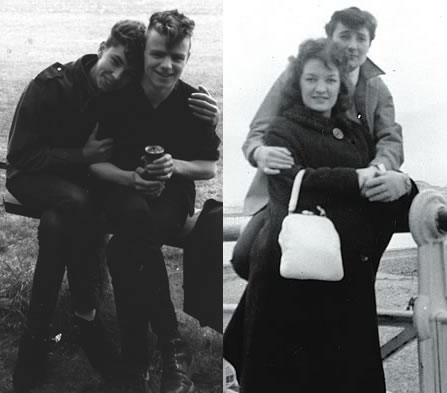 Images from Really Living
SUSSEX ARTS BALL
Also celebrating Winter Pride and LGBT History Month, we had a marvellous time at the re-creation of the Sussex Arts Ball organised by the LGBT Workers' Forum of Brighton & Hove City Council. Held at the Hanbury Arms ballroom, it was chock-a-block with gorgeous queer folk of today imitating the gorgeous queer folk of sixty years ago - inspired by memories of the event in Ourstory's book, Daring Hearts. Lots of dressing up went on, music was provided by a very fine jazz band fronted by Nicky Mitchell and projected onto the wall were images from the original Arts Balls (from the Ourstory archive). There was talk of repeating the event at a larger venue, so look out for that – it was a brilliant night out.
MOVING ON
On a slightly more sober note, we have been sad to lose two members of our Management Group recently. Benedict is travelling (now in South-East Asia) and Chris is upping sticks and moving to London. Congratulations to Chris and his partner, Tom, who recently tied the knot in a civil partnership. Ben and Chris have both been on the Management Group for four years and we thank them for their invaluable contributions to Ourstory's continuing success. We are now recruiting… Linda
New In The Archive
Just before Ben went away on his travels, he excavated his drawers and brought his finds into the archive – a set of Fresh Fruit Guides to Brighton produced by Sussex University Students Union and the Essential Guide to Running an LGB Society, produced by the National Union of Students in conjunction with Stonewall.