On A Carousel...
It's been an up and down few months for us. In June this year we made a presentation at the Oral History Society's annual conference in Bournemouth. The theme of the event was 'oral history on display' and so we talked about the way we turn tape recordings into shows, exhibitions and books and took our Queer About Campus exhibition with us for good measure. This was the first time this exhibition had been shown to a largely heterosexual audience and, it has to be said, most delegates ignored it! One person who did take a look wrote in the visitors' book that it had taken courage to do so - a reminder that we really are in a privileged position here in Brighton. Nonetheless, Ourstorians Benedict, Ingrid and Martin gave a splendid presentation about our work, which was very well received by the large audience it attracted. The six of us who attended also went to many interesting talks by other groups and organisations so thanks to the Scarman Trust for funding the trip.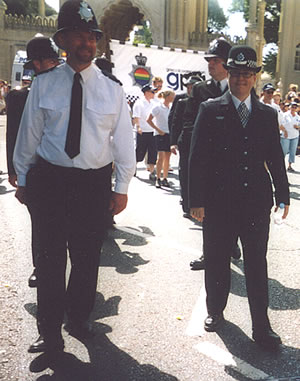 History in the making - members of the Gay Police Association marching at Brighton Pride 2004
Sadly, we had to cancel our planned audio/visual show, Barely Legal at the Brighton Pride festival this year – Fate conspired to throw the lives of several of us into chaos at the same time and at a crucial point in the show's production. We've had to set the project aside for a while but plan to get moving on it again in October and be ready for a viewing round about Christmas. We've been invited to make a presentation at the London Metropolitan Archive's second annual LGBT History conference in December so we're hoping to have the show ready for that as well as a Brighton airing. if you would like to know further details of this one day conference, please get in touch. Several of us went last year and found it both entertaining and informative.
Gay Museum
We have been following with interest the development of Peter Tatchell's idea for a National Gay Museum in London. Plans are afoot there to acquire the former Bow Street Police Station, where Oscar Wilde was incarcerated after his arrest in 1895. We wish him success but hope it doesn't scupper our plans to open a Lesbian & Gay History Centre here in Brighton. Long-time and much treasured friend of BOP, Ted McFadyen, joined in a debate in the Guardian letters page (see letter reproduced here) and we thank him for flying our flag with such grace.
Thanks
Our grateful thanks go to the Older Lesbians and Gay Men's Forum for hosting another showing in June of The Lavender Lounge Bar at one of their monthly socials. Jane Boston, Nicky Mitchell, Simon Lovat and Stuart Barlow gave a knock-out performance accompanied by Nick Andrews. Len Read was Mr Nostalgia at the piano and Jo Purvis set the scene for an enthusiastic audience, who left us at the end of the evening with many lovely comments. We mustn't forget to thank, as well, the National Lottery, Awards For All who funded the performance.
Linda