Our Survey Said...
This year's Brighton Pride was, undoubtedly, one of the best ever for Ourstory. Set free from the confining shackles of the market area we were able to stretch our legs, and our new exhibition - Meet Our Ancestors - into a roomy tent, complete with working gramophone. Our larger space also meant many more people had the chance to browse our display, have a mooch and chat. As well as this, many of you took the time to fill in a special questionnaire designed to see if our long term plans - to have a permanent home for the archive - were what you wanted as well.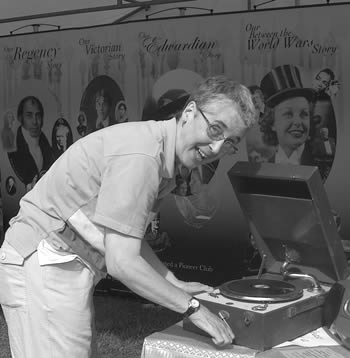 Val winds up the gramaphone in the Ourstory tent at this year's Pride.
Happily, our survey revealed that this was an aim you agreed with. Of 93 respondents 92% thought it very important to have an LGB History Centre in Brighton and would visit it. Two thirds of respondents were local, with a third from outside Sussex, while 54 women took part, as compared to 37 men with one person m2f.
Xavier Mayne
In September, Tom - one of the group's founders - gave an entertaining talk to the Friends of Ourstory on one of the people highlighted in Meet Our Ancestors - Edward Prime Stevenson. This globetrotting American opera queen from the turn of the century (who also took the rather exotic name of Xavier Mayne) was author of many a groundbreaking gay book.
Archive catalogue training has been going apace and we've just completed the listing of the Brighton Campaign for Homosexual Equality/Brighton Gay Community Organisation collection. We have lots of files, newsletters, scripts for gay play readings and ongoing campaigns. Some correspondence needs to be kept confidential but otherwise the files are now available - if you'd like to come and take a look, either for research or general interest, give us a call on Brighton 206655.
If anyone out there has other official files for these organisations that they would like to pass on to us for safe keeping, we'd be glad to add them to the collection. Thanks go to the archivists and conservator who've been guiding us through the rigours of caring for our collections to a professional standard, to the Ourstory volunteers who've worked so hard during the training and to Global Grants for the money to do it. Many more collections to be catalogued during 2006.
Winter Pride
Winter Pride and LGBT History Month are turning into regular fixtures in the calendar - and with a more cultural feel than summer's hedonistic pleasures we feel we fit right in. This year we're putting on Really Living, an Ourstory production not seen for fifteen years. It's a moving performance with film and music that evokes the challenges and delights experienced by three generations of lesbians and gay men in Brighton and Hove. Head down to the rather swish Joogleberry Playhouse just off St James St on Sat 11th Feb at 4pm (with the bar open from 3.15pm). Tickets £5/3.50 available in advance.

We've also been delighted to help and advise Brighton & Hove Council's LGBT Workers' Forum with their Winter Pride event celebrating the Sussex Arts Balls, which took place in the years following World War II. In those days, prizes were awarded for the best fancy dress costume. Grant, an Ourstory contributor and regular at the balls, recalls "a certain number of queens used to spend the whole of the summer sitting on the Men's Beach, sewing sequins on the gowns".
Of course, we couldn't sign out without mentioning the sad loss of entertainer Phil Starr in October. We have fond memories of this kind and unpretentious man giving an exquisite benefit performance in our Lavender Lounge Bar show in 1999. Read more in our tribute to Phil Starr.
Until 2006...