Issue 11 . Spring 2002
Lucky for Some . The Presents of the Past . Come Into My Web . Hippy Happy Birthday . Wonderful, Wonderful: Some Memories of Edward Thompson
Lucky for Some
Brighton Ourstory Project is thirteen this year. That's something of a record for an unfunded lesbian and gay community arts organisation in Brighton (anywhere in Britain?) We're celebrating by launching a major fundraising bid to obtain the permanent, secure premises we so urgently need in order to keep our archive collections safe and make them available for all who are interested, whether browsers or delvers. Hopefully some help from Brighton & Hove Council will be forthcoming to help pay for the services of a fundraising consultant - we'll know about that before too long.
In the meantime, we're getting underway with cataloguing as without that key activity done, our treasures remain invisible wherever they're housed. A team of willing workers has been gathered who will, over the course of the next year or so, transform the roughly categorised boxes and bags into detailed lists. Most of our holdings can be made available for public viewing as soon as we have the right premises but some, personally sensitive, material must wait until no-one risks harm by its release.
Acid free boxes
We have taken advice from other archives - the Hall Carpenter, the lesbian and gay archive now split into four parts and housed in mainstream institutions in London, and the East Sussex County Records Office in Lewes, whose Brighton & Hove archivist will be helping us observe high standards of preservation practice.
This will all cost money of course! Quite aside from the building, our immediate needs are for acid-free boxes to keep precious paper documents from yellowing and becoming brittle (likely to set us back £1,000), a desktop computer and a photocopier.
If you think you could help us get any of these items we'd love you forever and either blaze your name across our next newsletter (if you're that way inclined) or keep it a secret unto death (if you're not). A small standing order (£2 a month) can be a relatively painless way of giving support, while a building society cheque offers the choice to remain anonymous. Getting together a group of friends to all give the same amount is a pally way to help, while an individual, enormous one-off donation is always acceptable. See what you can do??
We haven't forgotten, amid all this archive activity, that we also want to enrich the lives of as many queer folk as we can with the wonderful stories and photos we already have to hand. To this end a performance of readings from our book Daring Hearts was enjoyed by a packed audience at the Older Lesbians' and Gay Mens' Forum last September and as a result was also requested to be part of the Better Government For Older People event at the Brighton Centre in November.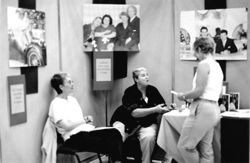 Val, Stevie and friend, Ourstory exhibition stand, Better Government for Older People election event, Brighton Centre, 5th November 2001
Many thanks to Charlie Hughes d'Aeth and Gary Blair for reading and giving their considerable talents for free on both these occasions. Brighton Ourstory Project also had an exhibition stand at the Better Government event and thanks are due to Peter, Val and Stevie for designing, setting up and being there.
Museum piece
The Queer About Campus exhibition had a second, highly successful, airing at Brighton Fishing Museum last August and our contribution to Brighton Museum's new galleries (opened to the public 4th May) was completed by a potted history of Brighton's queer happenings, which is available on our website and also as a pamphlet to buy for a modest sum.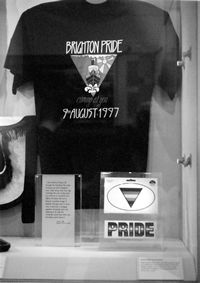 Part of the new galleries opened in Brighton Museum in May 2002, with contributions from Ourstory.