Issue 12 . Winter 2002
Feather Boas and Rave-Goers . Unveiling Illusion . Homo From Homo . A Stone in Her Shoe . Treading the Boards . Women of Brighton
Feather Boas and Rave-Goers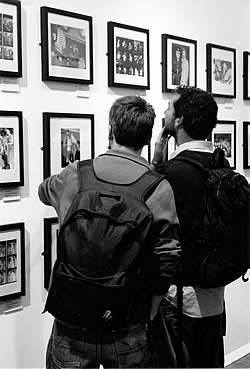 It was our great delight this autumn to lend a hand to Patrick Lilley who chose to celebrate the twelfth anniversary of his Brixton Club, Queer Nation with an ambitious photographic exhibition of gay clubbing since the Second World War. Called Queer Nation O2, its curator, Alastair O'Neill scoured the country and tracked down numerous photographers, looking for images. He found some crackers. The beautifully produced exhibition ran in London for ten days at the end of November. Brighton Ourstory Project supplied most of the pre-Liberation images from our collections in the archive, including photos of the Sussex Arts Balls, the Variety Club and the Curtain Club. There's talk of bringing the exhibition to Brighton for the week before Pride next year, if sponsorship can be found – so, fingers crossed.
Less glamorous but just as important to our continued success is the £2,500 grant received from the Scarman Trust to help with running costs at the archive and to enable us to learn from the experiences of other community archives. Brighton and Hove Council has also stumped up some money to get us started with major fundraising, so thanks to them and to all the Friends of BOP who dug a bit deeper into their pockets last time round to help us out.
Ronnie aka Cairo Connie
Thanks are also due to Val, Nina and Martin for giving us office equipment and to all who have contributed photographs and magazines to add to our collections. We are particularly grateful to Eunice and to Peter for sending our way some photograph albums of Ronnie (aka Cairo Connie) who used to be a doorman at the Curtain Club, in the basement of the Queens Hotel in the 1960s. They include shots inside the Club and were a timely gift as we were able to put one of them in the Queer Nation O2 exhibition.
Access to Archives
Cataloguing is well under way now and lists of our holdings will soon be entered onto a state-of-the-art computer database. In time we might consider participating in the wondrous A2A (Access to Archives) project, run by the Public Records Office. One search on their website produces results from all participating organisations so, for example, someone looking up 'Brighton in the Second World War' might have a whole new dimension opened up to them! It could change lives.
Lavender Lounge
In the nearer future, we're looking forward to a repeat performance of the Lavender Lounge Bar, probably in the run-up to Pride next year. This immensely popular show sold out very quickly last time so lots of our fans missed it. Maybe we could find some money to make a CD of it this time or perhaps BBC Southern Counties Radio would like to do a live outside broadcast…