'The campest queens are the toughest'
Rev Dr Gordon G P Hunt (1929-1997)
Gordon Hunt, a long-time Hove resident, wasn't a quiet sort of man. At six foot four this larger than life character cut a swathe through queer culture for more than four decades.
Gordon was born in London and brought up in wartime Cambridge, where there was still a distinction between 'town and gown'. Here he would mix with well-healed undergraduates, once claiming that he had affairs with three viscounts by the time he was twenty.
Montagu Scandal
After the war Gordon frequented the American Bar at the Ritz, a well-known gathering place for gay men, but dark clouds were looming in the shape of the Montagu scandal. Lord Montagu and others were pursued by the police in what was effectively an anti-gay witch-hunt. As more men were questioned, houses raided and diaries and address books seized, the circle widened. Gordon decided that the only way out was to flee the country and he went to work for Unilever, firstly in West Africa, then in Singapore. The sea journey out was so full of well-educated escaping young queens that the ship was nicknamed the SS Lollipop.
Above: Calm before the storm, 1946
Below right: Everything stops for tea - Gordon running the Colonies in 1959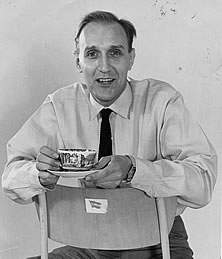 Swinging London
After various affairs overseas (including one with the Prime Minister's brother in the newly independent Singapore), Gordon came back to the UK in the early Sixties, and became part of Swinging London, where he worked first for Harrods, and later John Lewis. It was at this stage that he discovered Brighton where he was to make his home from the mid-Seventies.
Gordon maintained a deep sense of injustice over the treatment of gay men and how successive generations had been hounded by the establishment, persecuted by the police and vilified by the press. The Wolfenden Committee had already published a report in September 1957 recommending the partial decriminalisation of homosexual acts and the Homosexual Law Reform Society was in full swing. Gordon often described the great push forward to partial decriminalisation in 1967 and going on the first march for gay rights, which he said was more of an escorted mince.
Going down to Brighton
In Brighton Gordon worked for HM Customs and Excise as a VAT inspector and became involved both in the town's gay scene and in political campaigning. Gordon also had a lifelong interest in the occult and after becoming ordained in the States would conduct gay Pagan weddings (called 'handfastings').
Baroness Young
His letterwriting campaigns (always backed by thinly-veiled threats) were an inspiration for many. He frequently wrote to homophobic members of the House of Lords, the House of Commons and local and county councillors expressing his disgust and always seemed to be able to engage the least likely people in lengthy dialogues. He followed Joe Orton's example of setting up controversial correspondences in many papers, himself being the author of all letters under different names. His point was always to give publicity to an anti-gay injustice. One of his funniest exchanges took place with Baroness Young, a vehement homophobe and campaigner against equalising the age of consent. Frustrated at the 'family' campaigner's blinkered and bigoted stance, he chose to criticise her dress sense, and wrote condemning her for a 'wine- stained' abomination she wore in the Lords and asking 'when will we see your other polyester one again?' The noble Baroness replied in hand-written green ink that where she came from it was considered most rude to comment on a person's dress. Gordon's missive back enquired as to the place of origin that she referred to and ventured to suggest it might be Mars, since no-one on this planet could consider homosexuality the 'unhygienic risk to children' which she alleged and that no-one in a post-holocaust era could be quite so outrageously bigoted.
In later life, Gordon reserved his greatest wrath for the Church. He would monitor religious programmes on the radio and was a frequent contributor to live debates. Famously, one Sunday, after a nasty anti-gay outburst by a fundamentalist bigot given airtime on local radio, Gordon managed to speak to the producer. The producer thought that if you gave both sides of the debate a say, there was somehow a fair balance. Enraged by this skewed logic, and cross at having the Religious Right deny our freedom to exist, Gordon simply said 'That's how radio stations burn!' Shock at an arson threat from the Rev Dr himself, and even more shock when he refused to retract it, brought a surprising new attitude among the producers. As Gordon always said, 'the campest queens are the toughest'. And dear old Gordon was certainly tough.