Finding the lesbians: How straight is your family?
'All the young men were killed in the First War,' my mother said, 'that's why Auntie Annie never married.''And is that why Auntie Elsie never married either?' I asked. I must have been six-years old and we were off to see my two favourite relations. They lived in a bungalow, stuffed full of Victorian treasures, a place frozen in time and the two old ladies treated me like a grandson.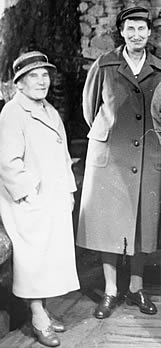 Annie and Elsie: Lifelong companions
As the years went by I learned that these two aunties were nothing of the sort. Annie was my grandfather's eldest sister and Elsie her 'friend'. But to my childish imagining they seemed like an old married couple. Annie did the garden, Elsie the cooking, they argued all the time, but had a deep commitment that went beyond friendship.
Then when I was still a child, Annie died and Elsie was left bereft; they had been together for 63 years. Elsie and I became close and exchanged many secrets until her death in 2000 just a little before her 103rd birthday.
Auntie Annie, it seems, was taken in by Elsie's mother Martha after becoming pregnant and being kicked out by her parents. Elsie's parents had split up just before the First World War, when her German-born father was determined to return to the Kaiser's growing military might, but Martha was determined to remain in Britain with her two children. An unusual thing in itself, Elsie's life was never conventional.
Despite Annie and Elsie being separated by more than a decade in age, they formed an attachment and found employment together, working as lady's companions cum servants, going from employer to employer, but always as a couple. Under this cover they remained in employment together for years, before eventually buying the bungalow in Sussex and retiring.
So what has made me suspect that these great aunts were in fact lesbians? Well, there was certainly the romantic affection with which Elsie held Annie after her death and then there were the references to how I must be 'careful' and how it was easier for the girls to 'get away with it than the boys'. These veiled references were always difficult to deconstruct - was Elsie really saying what I thought? Had she seen my homosexuality? Did she know we came from the same minority? We never discussed sex, or sexuality; Elsie met all my partners, loving them at the time and condemning them when my affair was over. We didn't need to discuss things, we just knew.
When Elsie lay dying in a nursing home, having spent months in a state of confusion, not really making sense to the outside world, she had a moment of clarity. Elsie came from a Quaker background and had an unshakable belief in the afterlife. She knew her time was here and took me by the hand. 'At last,' she said, 'I will see Annie again.' She lost consciousness and died a few hours later. To the family they may have been the eccentrics who lived together because of the loss of men in WWI, but we shared the truth. I'm not religious, but if Elsie was right, I hope they are together now, still arguing.
Dr Chris Farrah-Mills
Captions: Birthday greeting ''from Elsie to Annie with fondest love''