One of the many Black Brighton pioneers
If you have ever idly asked yourself, 'I wonder who opened the first sauna in Brighton?' or 'When was massage with aromatherapeutic oils first practised in the town?' then wonder no more. The answers are here.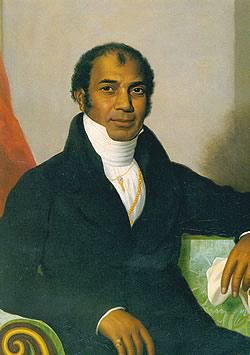 Sake Dean Mahomed (pictured right) was born into a Muslim family in Patna, India, in 1759. He joined the East India Company's Bengal Army as an 11-year-old camp follower and rose quickly through the ranks under the care of 'his best friend', an older Irish officer, Godfrey Baker. Two years after joining Baker in Ireland in 1784, Mahomed met and married his much younger white Irish wife, the equally remarkable Jane Daly, and in 1794 published The Travels of Dean Mahomet, thought to be the first book by an Indian in English.
Hookah pipes
Jane and Mahomed moved to London, where they raised a family and opened the Hindoostanee Coffee House in the West End, offering authentic Indian food and ''chilm tobacco' in Hookah pipes, an early example of a fashionable dope café. In 1814 they opened Mahomed's Baths in Brighton, on the seafront at the end of King's Road, where the Queen's Hotel now stands.
Mahomed's innovative combination of Indian massage with essential oils, Turkish vapour bathing, and the ''hot cold douch and shower' (which had probably been used in England for some time), led to many cures in patients whose diseases had been considered beyond all hope of recovery. Royal patronage soon followed.
Admired and loved
The good works of Mahomed, and his multi-talented family, made him a well-loved and admired figure around the town for another four decades. Sadly he did not long survive the death of his wife Jane at the age of 70, dying two months later on the 24th February 1851 at the grand old age of 91. They are buried together, with two of their young children, at St Nicholas Church where their headstone has been reverently preserved.
Mahomed and Jane's descendants are still in Brighton and many mementoes and memories of his and his family's contribution to the town are everywhere treasured and retold. Despite the best efforts of the silence merchants, the burners and the demolition men, Sake Dean Mahomed's name today is living proof that a legacy of loving industrious care can never entirely be destroyed.
Thanks go to Rozina Visram, Bert Williams of Brighton and Hove Black History, Fathom, the British Library, Paul Jordan and Donna Steele at the Brighton History Centre, Richard Le Saux at Brighton Museum and, most especially, Vernal Scott in the making of this tribute. Hats off to you all.
This portrait of Sake Dean Mahomed (1759-1851) in his full glory can currently be seen in the local history section on the ground floor of Brighton Museum. Many details of Mahomed's life suggest he might respectfully be considered as an early and important builder of Black gay community in Britain.