Award success for Ourstorians
Two volunteers of Brighton Ourstory have received a prestigious award from the University of Sussex for their work in the LGBT community.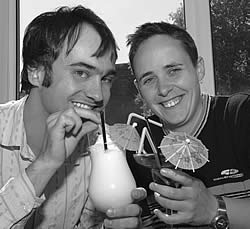 Benedict Brook and Sally Hill (pictured right), both trustees of Brighton Ourstory, were given their Chancellor's Award from Lord Attenborough in front of a packed crowd of hundreds of graduating students and their families, on 22 July at the Brighton Dome. The award is designed to recognise the work of exceptional members of staff at the University. Benedict is currently Communications Officer of the University while Sally is Coordinator of UNISEX, the campus sexual health, drugs and alcohol project.
The award not only recognises their contributions to the campus student and staff LGBT communities, it also specifically highlights their work with Ourstory. It was through 2001's Queer About Campus exhibition, a joint project between ourselves and Sussex's student LGBT group, that Sally and Benedict first began their relationship with Ourstory.
The pair said they were 'thrilled at winning the Chancellor's Award.' They added, however, that they were equally 'pleased that the good work of Ourstory had been recognised, and has been highlighted in front of hundreds of new graduates. If these graduates go out into the world,' said Benedict, 'with a positive endorsement of homosexuality ringing in their ears then that has to be a good thing.'