Issue 5 . Winter 1998
On with the show! . Anything to Declare? . Jackie Foster . Camp outside the gates . Gluck-mania!
Jackie Forster: a legend among lesbians
We were shocked and saddened to hear of the sudden death of fellow archivist and long-standing lesbian campaigner, Jackie Forster, at the age of 71. During our visit to the Lesbian Archive in 1994, she was typically welcoming and full of humour, and was delighted to receive a complimentary copy of Daring Hearts on behalf of the Archive. Although she looked quite frail on her last visit to Brighton Pride this August, she was still as energetic as ever in encouraging women to roll up to the Lesbian Archive stall.
Lacrosse and hockey
Born Jacqueline Mackenzie in 1926, she lived in India till she was six, and then at boarding school in Scotland. During the war, she played lacrosse and hockey for Scotland, and became an actress. When she had worked in rep for some years, she moved to London in 1950, and was in various West End productions and films. She then developed a successful career as a TV presenter and news reporter, married, fell in love with a woman, and divorced her husband.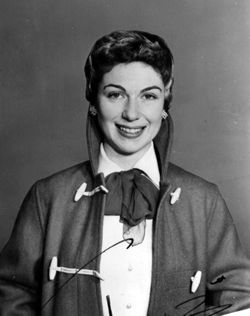 Jacqueline Mackenzie
during her prize-winning TV career in the 1950s
(MonoMania collection)
From 1957 she was in North America for part of the year, and she then lived in Canada from 1962 to 1964.
She returned to Britain to work for Border Television; and then eventually moved in with a girlfriend and her children in London.
Dustbin of history
By the late 1960s, she joined the Minorities Research Group. She once recounted a lunch engagement which a male correspondent to Arena 3 had arranged with her and Esme Langley. Marching along Regent Street, Jackie began to have certain misgivings about their mysterious mission. She persuaded a reluctant Esme to buy a pair of nylons to cover up her defiantly hairy legs before they arrived at the restaurant. Only at the end of an excellent meal, when they were on the brandy, did the man explain his interest in the group: he hoped they could find him a lesbian who would put him in a dustbin. Suggesting that while the dustbin might not be a problem, the lesbian would, they managed to flee, leaving him to pay the bill.
In 1972 Jackie founded Sappho, a magazine and London-based social group for lesbians. For the last 30 years, she has been one of the most publicly recognised faces of lesbianism, because she was prepared to be so out so early on, and because her media experience made her such good value to interview.
Saving women's lives
Entertaining, energetic, humorous and lively, with an actress's delight in the power of language, and curious about human behaviour in all its wonderful diversity, Jackie did as much to challenge existing stereotypes of lesbians, as she did to save women's lives by ending their isolation from each other. She will be much missed.