Issue 5 . Winter 1998
On with the show! . Anything to Declare? . Jackie Foster . Camp outside the gates . Gluck-mania!
Gluck-mania!
From 4 July to 9 August this year there was a small but beautifully curated exhibition of some of the most memorable paintings by the artist known as Gluck, at the De La Warr Pavilion in Bexhill on Sea. A local resident, Gluck shared Chantry House in Steyning with her lover Edith Shackleton Heald from 1944 until her death in 1978.
Punting in Plumpton
Although it wasn't a large or extensively advertised show, it was well presented and pleasingly candid about her sexuality. One of the 12 pictures on view was The Punt. As the caption beneath it explained, it was a painting of Gluck and Mrs Nesta Obermer, her semi-secret lover in the late 1930s, relaxing in a punt on the pond at Nesta's home, the Old Mill House in Plumpton. This painting had once been removed from a show by the director of the Fine Art Society, as being unsuitable!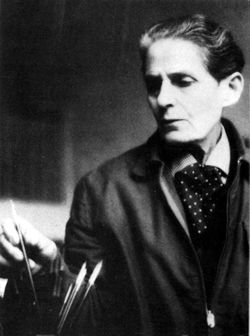 The artist, Gluck (Hannah Gluckstein, 1895-1978).
Most of the paintings were displayed as Gluck intended, in her self-designed three-tired Gluck-frames. Very stylish and contemporary they looked too. Having been largely neglected in her later life, it was good to see a return in interest in her work, and a overdue opportunity to reassess her undoubted talent.
Congratulations to the organisers, as the faded deco glamour of the De La Warr Pavilion was the perfect setting to enjoy the work of this truly unique woman.
Hove Link
More Gluck news, and some recent correspondence with Gluck biographer Diana Souhami has linked Gluck and Edith Shackleton Heald to an hotel in Hove.
Though sadly no longer a hotel, Gluck and Edith stayed at the Beaufort (Private) Hotel, 21 Brunswick Place, in February 1944. They were just becoming close and Gluck had completed a exhibition of her paintings in Steyning.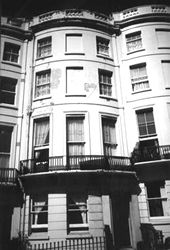 21 Brunswick Place
Together they spent a week there, going off on day trips to Rye and Hastings, or simply spending the day shopping in Brighton, stopping for tea at the Royal Pavilion. As for entertainment in the evenings...
Gluck Donation
Purely by coincidence, we lastly have the good news of a Gluck donation. Local resident and creator of GirlFrenzy comic, Erica Smith, has kindly added Gluck's book on artistic conservation The Dilemma of the Painter & Conservator in the Synthetic Age, to the Brighton Ourstory Project archive. Many thanks.